4 min
4 minutes
Reading time
Fac­to­ry lay­out with floor re­quires dy­nam­ic zon­ing plan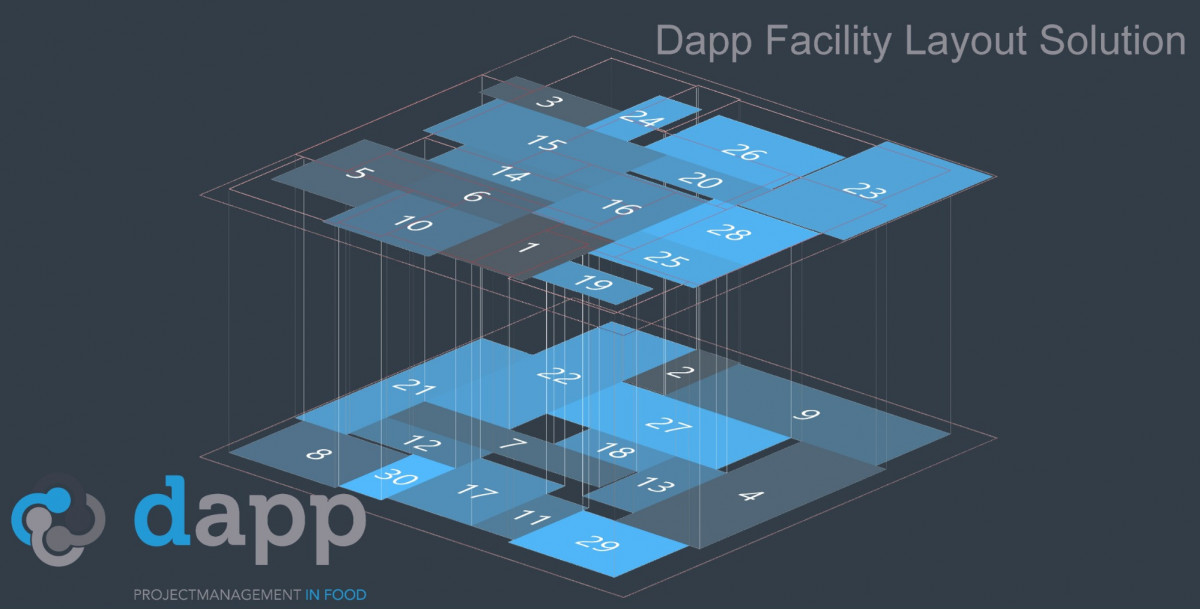 Since the development of the FLS model, Dapp has always looked at how the model can approach the reality and customer issues even better. Something that has been tested in theory often runs into problems in reality; situations that are not considered until you are confronted with them. We spend a lot of time maintaining the model and always looking for applications to better implement the reality and the wishes of customers.
One of those applications concerns the successful expansion of the model from one to several floors. In practice, the scarce space increasingly means that factories and companies are still going up. An additional advantage is that the material handling costs are lower when the height is built in. In theory, however, it is easier said than done; where 3D reality is already taken into account in practice, the step to deepening the theory is fundamentally different.
Working with algorithms and modern software options is currently unknown territory for many professionals. Today there is an unimaginable amount of possibilities with modern applications. But then you should know that there are possibilities with which the layout of your factory can be better and more efficient.
Optimizing a layout with one or more floors
This also applies to a factory with one or more floors, for example. That too can be optimized relative to each other.
"A two-storey building is nothing more than 2x a one-storey building but on top of each other?" Would you think. Unfortunately, in contrast to two one-storey buildings, where the buildings have no further relationship, this is certainly the case in a two-storey building; There is often a lot of exchange between the floors in terms of raw materials, products, packaging, waste, but also people.
If one would choose to first optimize one floor and then the other, it must be determined in advance which space will be placed on which floor, something that is almost never fixed in practice. At the other end of the spectrum, it often does not mean in practice that all rooms can be placed haphazardly on any floor. Some spaces should be placed on the ground floor, such as an inbound goods space, other spaces should be located on the first floor, such as the offices. In short, the model must simultaneously include both floors in the optimization.
How can you best tackle this issue? We also wanted to include some restrictions that could apply in practice for a multi-storey factory. This includes securing certain spaces on a certain floor, but also linking a set of spaces above and below each other and indicating that a space occupies several floors. We can also optimize multi-storey factories. See the image above.
Want to learn more about how your factory layout can be customized? Contact [email protected] or via 0345 - 50 52 56.